Shipped on the same day if you order before 4 PM
Free shipping from € 50
Do you find your skin is sagging a bit? And would you like to have (and keep) a stronger and more tight skin structure? We then prescribe you the Edelweiss cleanser + glycolic acid 10% + Edelweiss cream + hyaluronic acid. With a simple recipe you will see results after just 2 weeks. Read below how to mix & match these actives.
Currently this product is viewed by
others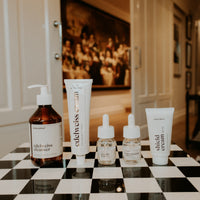 Volume Loss - Skin Concern set
$226.00