Shipped on the same day if you order before 4 PM
Free shipping from € 50
Salicylic acid penetrates the pores and dissolves sebum there. In addition, azelaic acid inhibits the growth of bacteria and soothes the skin. This combination reduces redness and blemishes, and keeps your skin free from blockages.
Currently this product is viewed by
others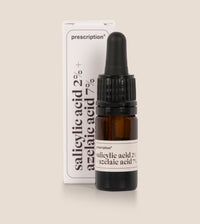 Salicylic Acid 2% + Azelaic Acid 7%
- 4 ML
$15.00