Ordered before 4 p.m, - shipped the same day 16:00
Above €50,- free shipping
Clear personalized recipe included
Do you suffer somewhat from irregular, or even coarse skin texture? Do you have coarse pores and perhaps some acne scars? And would you like to have (and keep) an even and soft skin? Then we prescribe edelweiss cleanser + mandelic acid + edelweiss cream + ascorbic acid + retinol + spf50 drops. With a simple recipe, you're going to see results after just 4 weeks. Read below how to mix & match these actives.
Currently this product is viewed by
others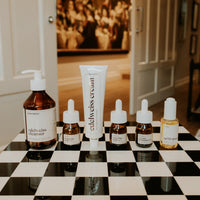 Volcano Skin/Coarse Skin - Skin Concern set
$268.00