Ordered before 4 p.m. - shipped the same day.
Above € 50,- free shipping
Clear personalized recipe included
Are you looking for a solution for your dry skin? Discover the recipe for ultimate hydrated and nourished skin. We prescribe you the edelweiss cleanser + glycolic acid + bisabolol cream + hyaluronic acid/dmae + inca inchi oil + retinol + shield cream. With a simple recipe, you are going to see results after just 4 weeks. Read below how to mix & match these actives. And watch the video for your recipe.
Currently this product is viewed by
others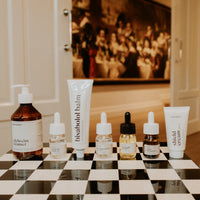 Hydrated Skin - Skin Goal
$311.00