Voor 16:00 besteld, dezelfde dag verzonden
Boven € 50,- gratis verzending
Suitable for every skin type and skin condition. This vegan cleanser is 100% plant-based and has Edelweiss as its main ingredient. Edelweiss has a scientifically proven strong restorative effect on the skin's barrierlayer. This plant also contains many antioxidants to combat skin aging and has a soothing and calming effect. As far as we are concerned, the best cleanser there is. Edelweiss is a plant that grows at 3,000 meters in the Swiss Alps. It must be able to cope with extreme weather conditions at that altitude. Edelweiss has made itself an expert in protection and has a restorative effect on the barrier making it extra protected from the influences of external stress factors.
Currently this product is viewed by
others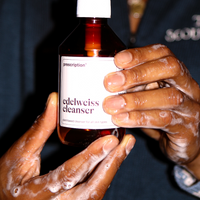 Edelweiss Cleanser
- 250 ML
$44.00